First Responders Resiliency Center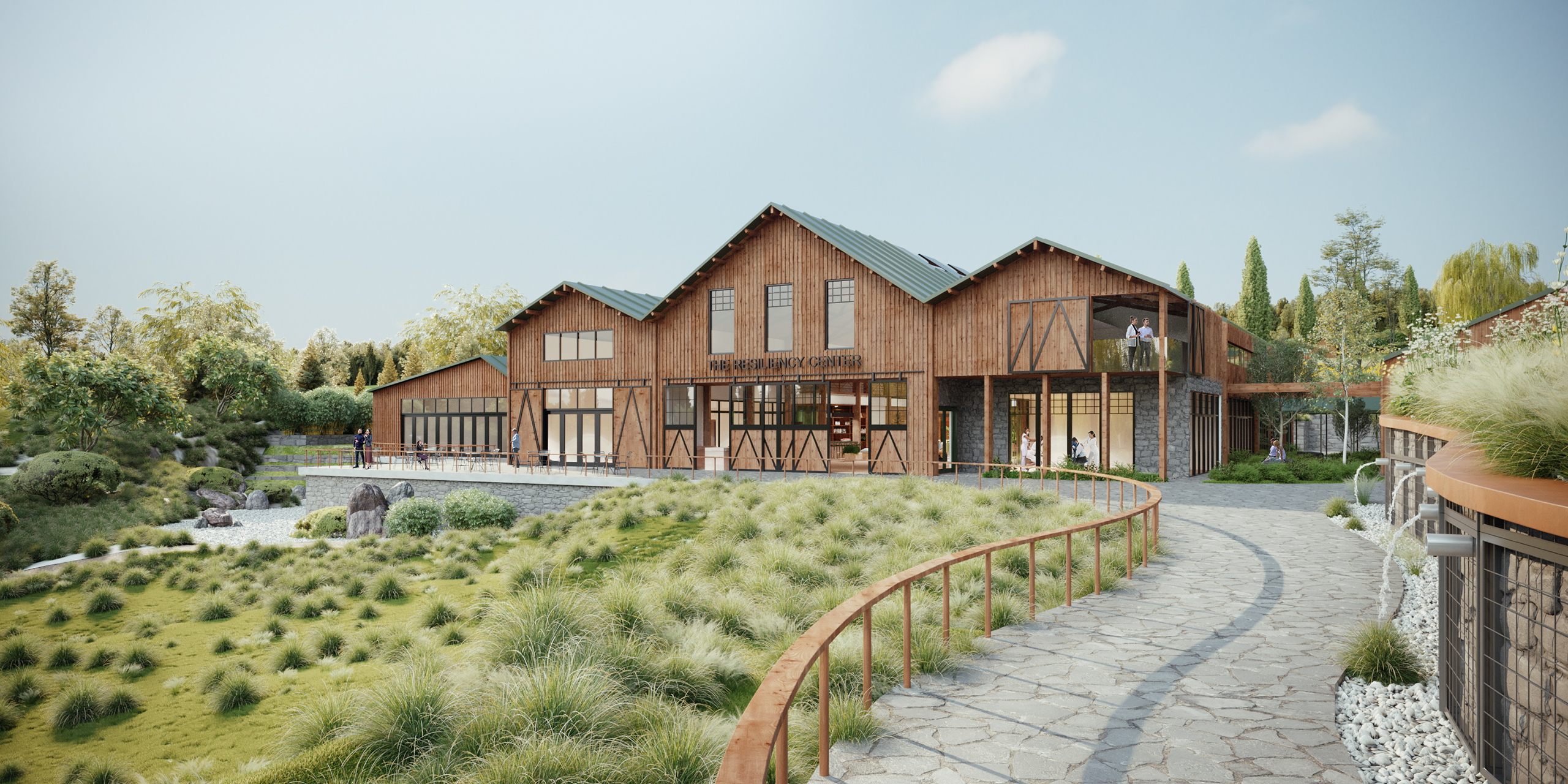 The Resiliency Center is a culmination of Susan Farren's career as a former paramedic, which has led her to pursue a dream (quite literally) of dedicating her life to helping other first responders who may be in need of mental or physical help.
LOCATION
Cotati, CA
PROGRAM
Non-profit, Retreat Center, Wellness Center, Community Center
STATUS
Concept
CLIENT
First Responders Resiliency, Inc.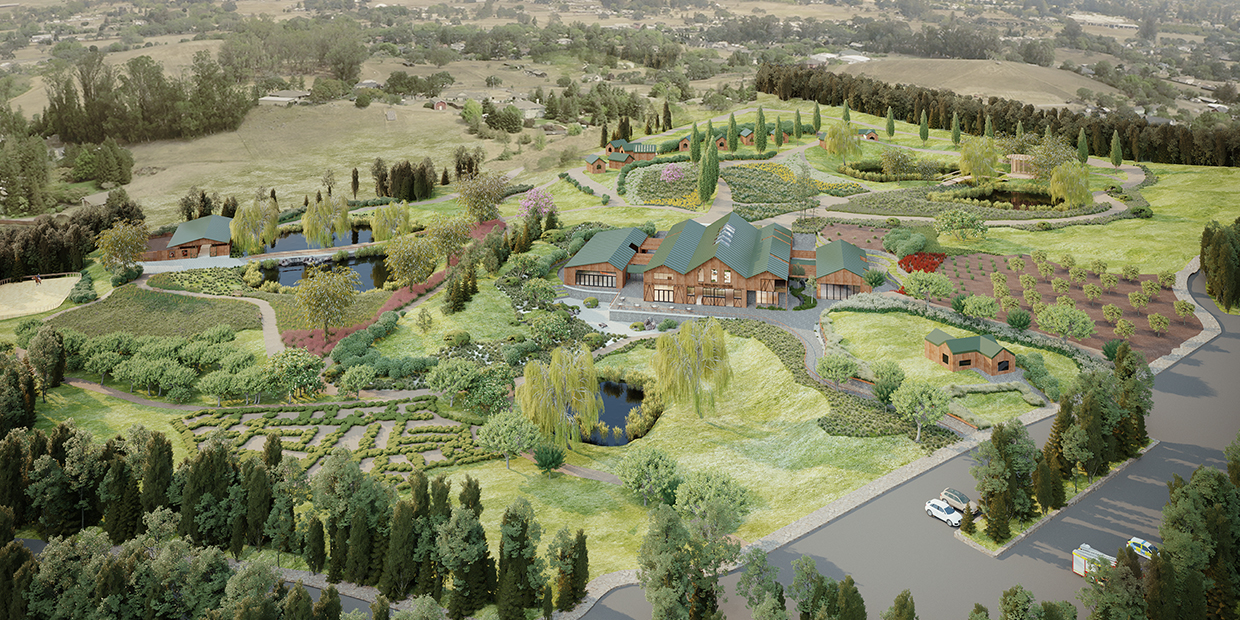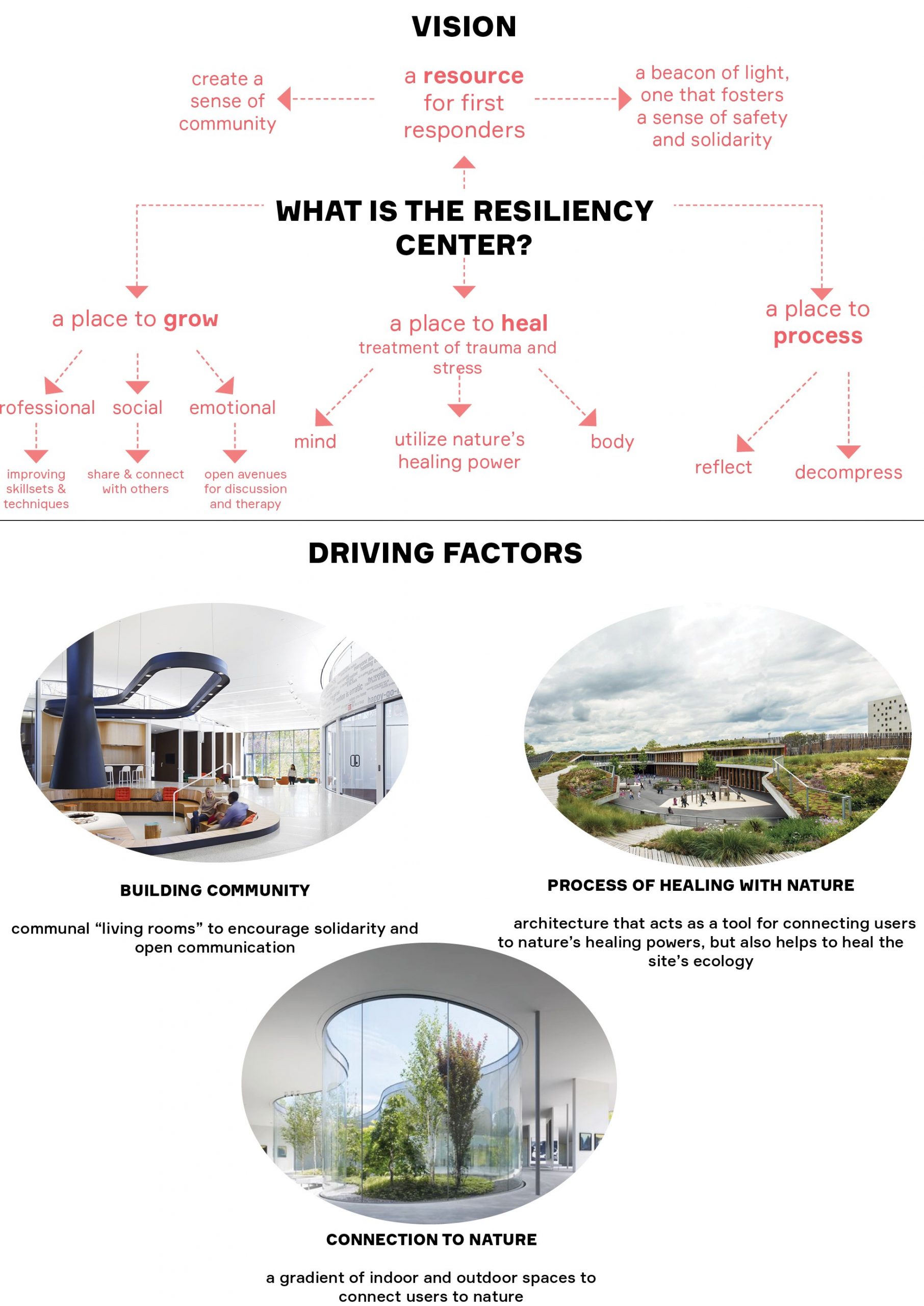 Unbeknownst to many outside of the industry, research shows that first responders suffer from high rates of PTSD, suicide, divorce, and are at higher risk for physical disease and ailments such as cancer, stroke, and heart attack. The job takes such a drastic toll on the human body that the average life expectancy is 15 years less than that of the average civilian.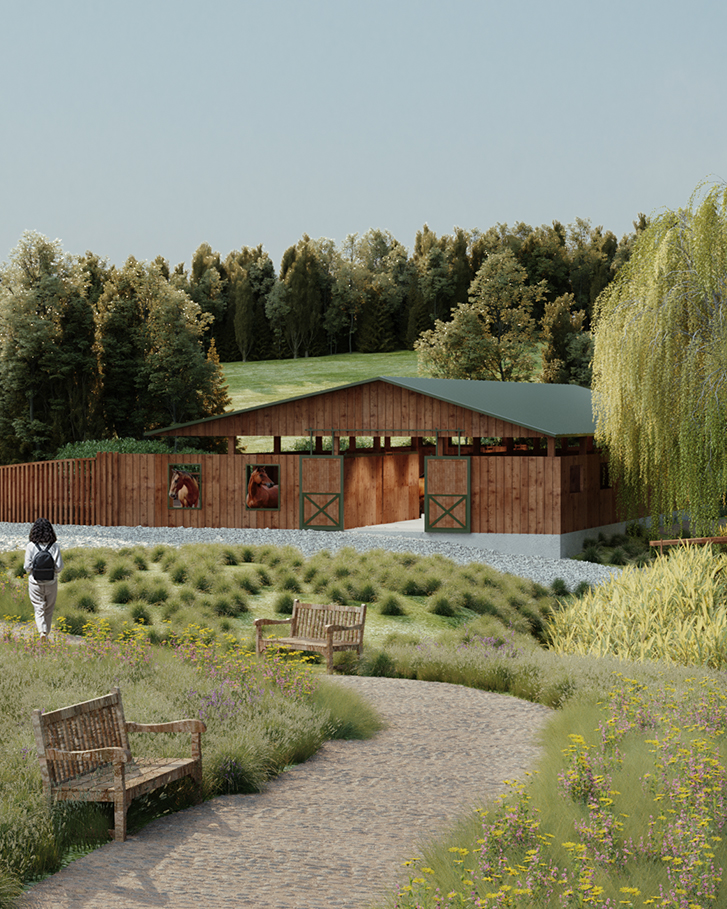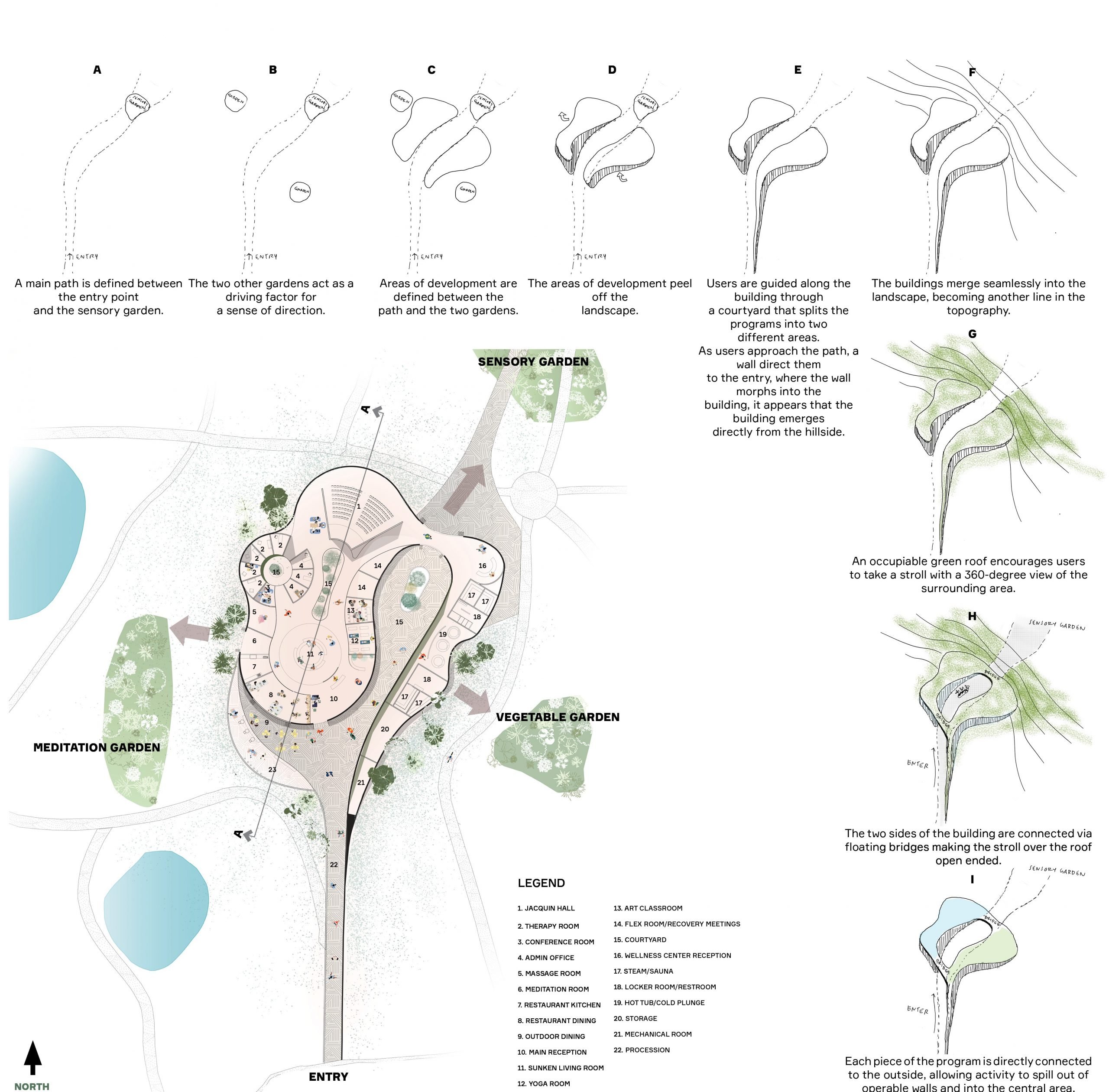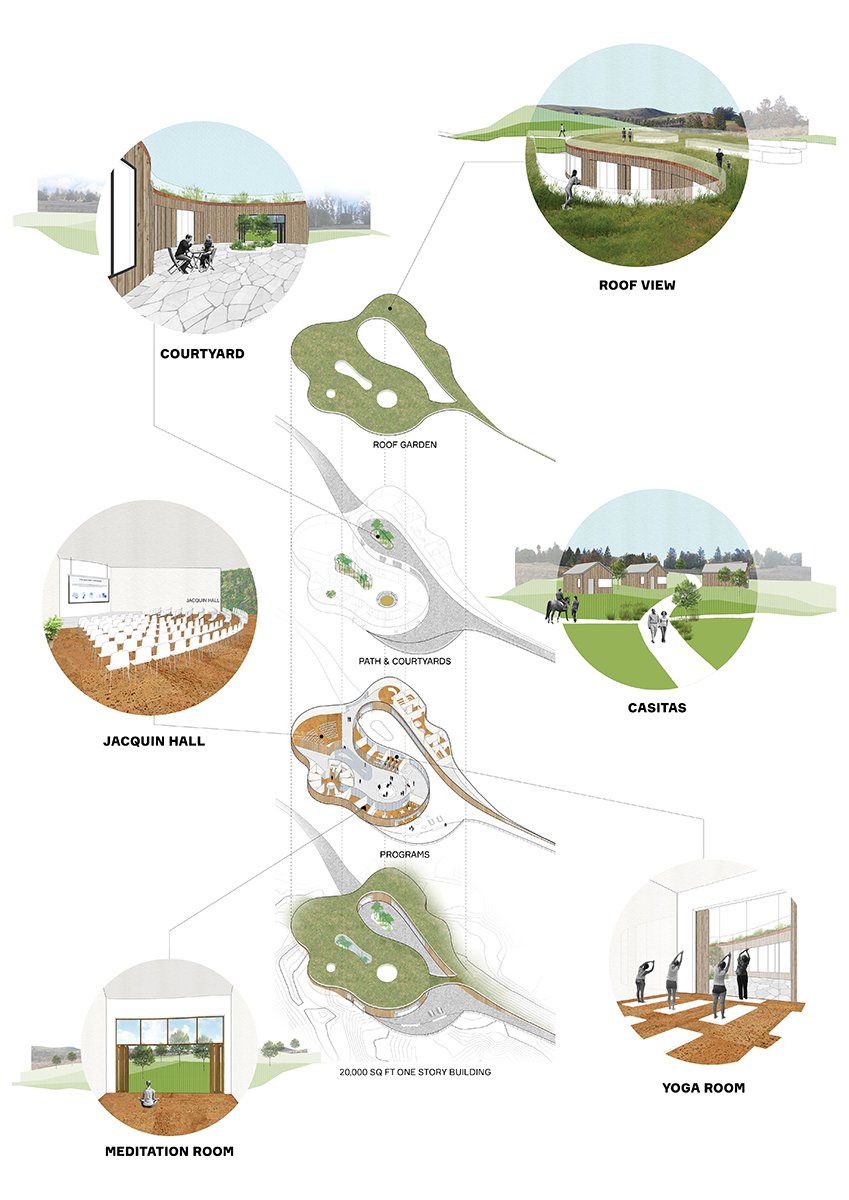 Located on a 17.75-acre rural property in Cotati, California, the Resiliency Center becomes the first of its kind physical manifestation of a dream to create a permanent local hub for a community of first responders which will become a prototype for others throughout the nation. The site holds a vast and rolling landscape, with 360 views of vineyards, the hills, and the big blue sky, and is home to a variety of ponds, native plants and wildlife.
Our concept is based on the notion that the power of nature is pivotal in the process of physical and mental healing, processing trauma, and reducing stress. A procession between the site's arrival point and the new 20,000 square foot facility becomes a crucial sequence in our site planning, since new visitors may be at threshold moments of stress during this moment in time. Upon arrival, users are guided by a landscape feature wall that leads them through a serene and natural path. The wall seamlessly morphs into the walls of the main center, where the building has become fully integrated into the landscape, tucked away under the expansive and habitable roof garden which has risen above it.
The Center holds a variety of functions ranging from therapy rooms, classrooms for art, meditation, and yoga, a wellness center which includes steam, sauna and massage facilities, and a 100-person lecture hall. There is also a full service dining facility and cafe, and resources such as family counseling and rooms for AA/NA meetings. The integration of interior gardens and views to the landscape blur the barriers between the natural and man-made, which have become indistinguishable from one another throughout the center.
The property is also home to a large equestrian center and a number of scattered casitas for those staying on the property overnight during multi-day conferences and events. Curation of the landscape via a series of sensory and meditative gardens becomes integral to the experience at the Resiliency Center, as one is able to wander by foot, by cart, or by horseback, using the power of nature as a tool to reflect, process, and heal.